Sacred Journey to Ladakh
August 31st to September 12th 2020
Come with us to the Himalayas and discover the majestic beauty of the Sacred Mountains, temples and caves of the region.
Immerse yourself in the energy of Tibetan Buddhism, come pray, chant and meditate in some ancient monasteries and receive the blessings of this sacred land.
Join me Don Ernesto Ortiz and other Journey to the Heart Facilitators on this amazing trip that will stamp in your field the energy of the Divine that will sustain you and carry you through the next decade.
This will be a Journey to the Heart and beyond.
A part of the journey will be a two-day visit to an orphanage in Leh where a part of the fee that you pay for this trip will go to buy what they need. This is Conscious Act of Kindness and you will be able to directly participate and see where your money is going.
This will be the first step in the creation of a foundation that we are calling, "Journey to the Heart of Children".
Come join us and help us make a difference in the lives of those little ones that have much, much less than we do.


NOTE: If you want to join this journey sign up soon because you will need
to get an India visa in advance of the trip.
NOTE: Once you sign up for the trip, we will give you the flight # and
information that you need to fly from Delhi to Leh.
We are not a travel agency, so you are required to purchase
your own airline tickets.
Our Itinerary
Day 1
August 31st
New Delhi to Leh
Please book your flight tickets on time.
You may want to consider buying some altitude sickness pills like "Diamox"
We will pick up the guests from the airport and drop them at the hotel. The day should be spent relaxing in the room and we advise you to drink lot of liquids.
Leh is at an altitude of 3500 meters.


Day 2
September 1st
Leh
Today, we move very slowly and rest as much as we can to get used to the Himalayan altitude.
Breakfast included, lunch and dinner on your own
Day 3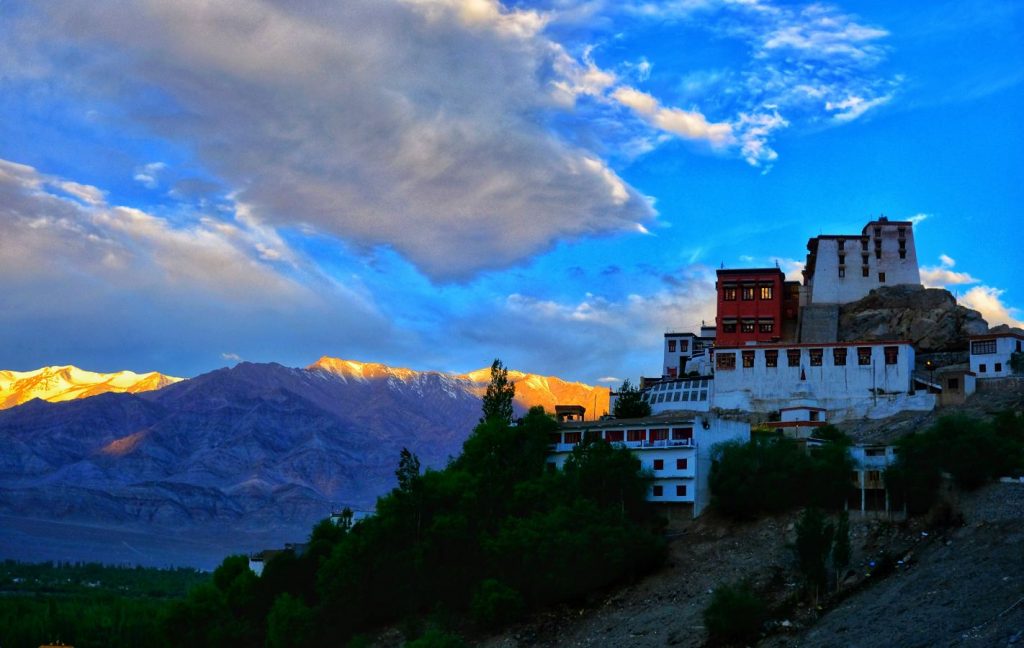 September 2nd
Leh ~ Ulley Tokpo
After breakfast visit Alchi monastery
which was founded in the 11th century.
After a hot lunch at the resort we will visit
Rizong Monastery which, is build by
Lama Tsultim Nima
B, L, D included
Day 4
September 3rd
Lamayouru
After Breakfast, We will visit Wanla Monastery, which is 990 years build by Ringchen Zangpo. There is a statue of Avalkiteshvara, or Chenrezing the Buddha of compassion; Om Mani Padme Hum
On the way back visit Attitse monastery where Naropa meditated for a long time and Lamayouru monaster, which was founded by Arhat Nyimagung where Naropa came and meditated in the 11th Century.
B, L, D included
Day 5
September 4th
Lamayouru
After early breakfast go and visit Skurbuchen Monastery, which is a majestic monastery and a castle in the village of Skurbuchen.
B, L, D included
Day 6
September 5th
Lamayouru ~ Leh
After breakfast visit Basgo palace built by king Jamyang Namgyal and Singge Namgyal. There is a" Golden Buddha Maitreya" which copper gilt, Maitreya is the Buddha of the future so in a way we all are waiting for him to come after the teachings of Buddha Shakyamuni have come to an end.
Lunch will be served at Phyang.
After lunch visit Phyang Monastery which was built by Chosje Danma Kunga. There is Apchi Choski Dolma the protectress.
B, L, D included
Day 7
September 6th
Leh to Nubra Valley'
After breakfast go and visit Nubra valley via Khardongla pass. Khardongla it's the highest drivable road in the world, at its peak is 5,359 m (17,582 ft)
The views are spectacular!! Historically important as it lies on the major caravan route from Leh to Kashgar in Central Asia. About 10,000 horses and camels used to take the route annually, a small population of Bactrian camels can still be seen at Hunder, in the area north of the pass.
Stay at Nubra Valley, check in hotel and visit Sand dunes and go for a camel ride.
B, L, D included


Day 8
September 7th
Nubra
After early breakfast go and visit Diskit Monastery. Founded by Shesrab Zangpo in the year 1420. Lunch at the hotel. After lunch go and Visit Charasa Monastery , Samthaling Monastery and back to Hundar.
B, L, D included
Day 9
September 8th
Nubra to Pangon lake
After early breakfast drive to Pangong
Pangong Tso or Pangong Lake in the high Himalayas is situated at a height of about 4,350 m. It is 134 km long and extends from India to Tibet and China. Approximately 60% of the length of the lake lies within the Tibetan side.
One of the amazing facts about the lake is that is constantly changing colors;
changes from shades of blue to green to red.
It is one of the highest altitude lakes in the world and it is filled with saline water. … However, even though it is a saline water lake, Pangong Tso freezes completely during winters. WOW!!!
B, L, D included
Day 10
September 9th
Pangon to Leh
After breakfast we return back to Leh, the drive is spectacular as we once again cross the valleys and go over Khardongla pass.
Night at Leh.
B, L, D included


Day 11
September 10th
Leh
Today we will go to the Nari Neketan/Lingsheed school and orphanage. We will have the opportunity to be with children, see the conditions that they live under and use some of the funds of your tuition to purchase whatever they need. We will be able to be a direct participant and touch the heart of these children.
You will also have free time in Leh to wonder around and buy Tibetan arts and crafts.
B, L, D included


Day 12
September 11th
Leh
Today we will continue being with the children to be able to bring a spark of joy, love, kindness and compassion to their hearts.
An option that we will have based on how time goes with the children is to go to the other extreme, that is to visit the Maha Bodhi old age home.
I personally have gone there, and this has deeply touched my heart.
These last two days are about the young and the old and the quality of heart that we can bring to their lives. A small token of time well spent with joy can make a huge difference in the loves of these people.
If you need more time to shop, that time we can make available.
B, L, D included
Day 13
September 12th
Leh to Delhi
This is the end of our magnificent journey!
We will be dropped off at the airport to return to Delhi.


When: August 31st to September 12th 2020
Where: Leh, northern India, the Himalayas
Cost: Double room (shared 2 persons) €2900 or $3192.00
Plus: €150 or $165 for orphanage donation
Total cost: €3050 or $3357.00
Single room: €3350 or $3685
Plus: €150 or $165 for orphanage donation
Total cost: €3500 or $3850.00

Registration: Kiva101@aol.com
Facilitators and tour Leader:
Don Ernesto Ortiz and other Journey to the Heart International team.
We will have a translator for all of the teachings and meditations by Don Ernesto, as well as a local tour guide fluent in English and French.
I hope that you feel the call in your heart to join us in this Spiritual adventure to the Himalayas, discover the beauty of the Ladakh.


I look forward to sharing this Sacred land with you
Don Ernesto